Stop Vertigo and Dizziness - Inner Ear Balance Herbal Remedy
Tao Newsletter

Vertigo is often caused by an inner ear problem, usually involving the vestibular system, which includes parts of the ear and brain involved with balance control and eye movements. Endolymphatic hydrops is a balance disorder associated with a buildup of fluid (endolymph) and changing pressure in the inner ear. Vertigo attack may last from only a few minutes to several hours or more and may come and go with little to no warning. After an attack the individual is likely to be exhausted and need to sleep for several hours to recover. Our customers report this is the most difficult part - they may not be in a safe place when an episode occurs.*

Inner Ear Balance Herbal Formula is designed to support healthy sense of balance*, easing ringing in the ear*, and help clear the head*. It is well-tolerated, does not cause drowsiness and has no known side effects.*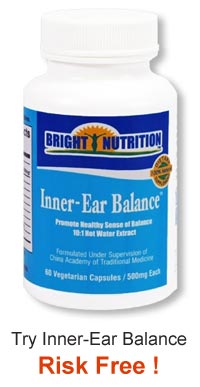 Inner-Ear Balance formula addresses the real issues, not just the symptoms. It helps manage inner ear disorders by:*
Balancing inner ear fluids (endolymph)*
Improving arterial blood flow to the brain and to the inner ear*
Minimizing the occurrence and severity of vertigo/dizziness*
Easing ringing in the ear/fullness of the ear*
Alleviating stiffness of the neck which may support healthy cerebral circulation*

Read About Positive Experience of Others with Inner-ear Balance **


This specific functional formula intended to help manage vertigo has been developed by the prestigious China Academy of Chinese Medical Sciences (CACMS) and made in the United States in compliance with stringent regulatory standards. The formula is based on a traditional herbal preparation with thousands of years of history of safe and effective use to brighten the senses.*
Natural Herbal Ingredients
The herbs in Inner Ear Balance are believed to balance healthy fluid level and maintain optimum blood flow to inner ear and brain.*
Astragalus - supports healthy metabolism and mood, and improves energy level.*
Pueraria and Vitics Fructus - diminish ringing in the ears; relieve headache and dizziness; maintain healthy microcirculation in inner ear.*
Cimicifuge - strengthens mind and senses.*
Common Peony Root and Licorice- relax tension in neck and shoulder muscles; calm nerves (licorice boosts the power of white peony to ease discomfort).*
Phellodendron - balances fluid in inner ear.*
Chinese Angelica Root - tonifies the blood and invigorates circulation.*
Codonopsis Root - fights fatigue and stress.*
The synergetic combination nourishes and activates the mind, the ears, and the eyes.*
Inner Ear Balance Herbal Formula is:
Manufactured in GMP (Good Manufacturing Practice) certified facility
Third-party lab tested for purity and safety
Vegan/Non-GMO/Gluten-Free
Made in USA
We have 30 day return policy if you are not satisfied.
Directions for Use: For best results, take 3 capsules 3 times daily on an empty stomach ( either 30 minutes before a meal or otherwise about two hours after a meal). For maintenance, take 1 capsule 3 times daily.
You may begin with six capsules per day, increase the dosage to three capsules three times per day for the best results. Most people will begin with what is considered a complete regimen - 3 bottles of 60 capsules. You may decrease the number of capsules taken daily for maintenance or stop taking it completely.

BRIGHT NUTRITION
Bright Nutrition, based in Chicago from its inception in 1994 as a distributor of high-quality wellness products, is committed to bring you only the best from premier sources worldwide. Bright Nutrition has been committed to a single mission: to provide high value and affordability in wellness-enhancement products and nutritional supplements that empower health-seeking consumers to enjoy a better life.
Academy Of Traditional Chinese Medicine in Beijing, is at the forefront in combining ancient herbalist traditions with cutting-edge scientific research today. Established in 1955 as a national comprehensive institution for technical research, clinical medicine and medical education on Traditional Chinese Medicine, the Academy links to and cooperates with the medical circles, research institutions, universities, pharmaceutical companies and non-governmental societies of more than 100 foreign countries and regions. Experts from a specialty board within the Academy oversee both cultivation and local harvesting of raw herbs to assure the purity and effectiveness of top-quality functional herbal remedies.
* The statements have not been evaluated by the FDA (U.S. Food & Drug Administration). Products are not intended to diagnose, cure or prevent any disease.
** Individual results may vary. We stand by a 30 day return policy for merchandise if you are not 100% satisfied.