Natural Alternative for Fibroids and Cysts
I am getting back to you to let you know of my continued improvement with FibroBlend. For the past three days I have hardly even felt my period at all; so, the my husband and I are so thankful for your product. After my first cycle, I was very happy to find my periods becoming lighter and much less painful than before. I am so glad I did not go through with the hysterectomy. We are trying to get pregnant now, and I will definitely keep you updated about our progress.**
-- S. Toles. GA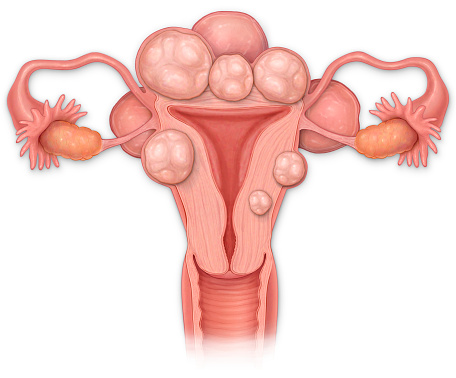 If you are a woman experiencing heavy or prolonged (more than seven days) menstrual bleeding, periods with blood dots, cramps, pelvic pressure or pain, frequent urination especially if unable to empty your bladder fully, constipation or back and leg pain, you may be dealing with the troublesome situation of uterine fibroids, ovarian cysts or endometriosis.
You Are Not Alone
We have worked with many customers suffering from these troubles. Some are in their fertile age; some are approaching menopause. Based on the experience of our customers, we are convinced that in most cases you do have powerful options to consider before you resort to surgery that may produce long-term side effects. Difficult as the condition might be for you, know that you are not alone and that effective natural remedies are available for you to consider.
FibroBlend Formula - The Proven Natural Solution
In the East, for thousands of years, when surgery was not available, women have used a combination of natural remedies to support better blood circulation, which may help to shrink fibroids and cysts.*
FibroBlend is compounded from a traditional Chinese herbal blend which has been refined over centuries for enhanced safety and effectiveness. It has provided relief caused by uterine fibroids and cysts such as:*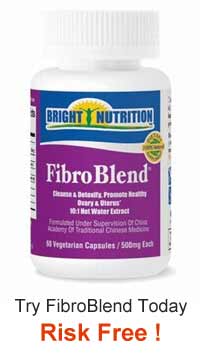 Supports healthy blood circulation through blood vessel dilation*
May dissolve or shrink fibroids and cysts*
Ease bloating, pressure, cramps, and pains*
Normalize frequency and volume of the menstrual period*
Reduce and/or eliminate blood clots*
Balance hormones and internal secretions*
Improve energy level*
Supports strong, healthy uterus and enhances healthy ovary function by its unique cleansing and anti-inflammatory properties*
FibroBlend offers a proprietary formula to strengthen the female body's ability to clear abnormal accumulation and growth of clots, tissue and cellular debris, all of which may contribute to formation of cysts and fibroids.*
Click Here to Order FibroBlend Today!
How To Shrink Uterine Fibroids and Ovarian Cysts Naturally?
In Traditional Chinese Medicine(TCM) natural herbal alternatives are used to address the underlying problem, rather than treating only short-term symptoms. For example it is believed that uterine fibroids and ovarian cysts result from three primary factors: fluid retention within the cells, blood stasis (meaning that blood is not flowing smoothly along its normal pathways in the reproductive system; instead, it begins to accumulate in an area where blood clots can subsequently lead to various gynecological problems) and vital energy stagnation.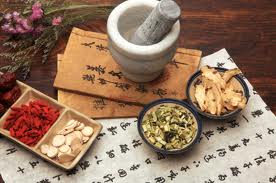 According to the principles of TCM, all three causative factors can be resolved by moving and invigorating the circulation in a woman's body.
With proper circulation the communication loop connecting the uterus and ovaries to the endocrine system is then able to function effectively and to establish proper hormonal balance, thereby regulating all the dependent functions such as ovulation and menstruation as well as hormone production itself.
Traditionally a combination of medicinal roots, bark, seeds and leaves has been used by Chinese herbalists to balance hormones, to support healthy blood flow and to promote detoxification, thereby flushing out uterine fibroids and shrinking ovarian cysts.*
Importance of the Synergestic Herbal Combination in FibroBlend *
FibroBlend promotes a combination of synergistic interactions (the components of one ingredient enhancing the benefits of the others) by the following herb groups:*
Cinnamon twig, poria mushroom, moutan bark, Chinese angelica root -- tonics that promote healthy blood flow to the female reproductive organs and thus overcome blood stagnation*

Curcuma zedoaria, peony, peach kernal, air potato, bearded scutellaria -- detoxifiers and blood purifiers that reduce swelling, ease blood clotting, relieve constipation and calm the nervous system*

Licorice, codonopsis, seaweed -- energy enhancers that boost metabolism and mood, combat fatigue and improve energy level in general*
In June 2015 I was diagnosed with uterine fibroids and after an ultrasound test, it was confirmed that my uterus was the size of a "5 month pregnant" uterus, with 3 fibroids all different in size, with the largest being the size of a lemon.
After meeting with my OBGYN, I was given only one option, which was a hysterectomy. I remember crying that day, desperate to find an alternative option. I wasn't comfortable removing such an important organ out of my body, even though I wasn't planning on having more children.
During my extensive research for better options, I came upon your website and read the testimonials from clients taking "Fibro Blend". My first thought was, if the product works so well, I am sure my doctor would recommend it to me, since he works with bio-identical hormone products and is open to "alternative medicine". Glad I did my own homework on this matter, because he was not familiar with it.
I started an intense "Fibro Blend" therapy, taking 3 pills before each meal daily.
Just concluded 60 days on "Fibro Blend". Today, I received my results from the new ultrasound done yesterday, and I am crying tears of joy. My fibroids have decreased in size in just 2 months. I honestly didn't expect such great results in a such a short time. I will continue my "Fibro Blend" therapy until all the fibroids disappear. Not sure if there is a connection, but I've also lost 12 pounds in the past 60 days as well which pleases me.
Thank you for such an amazing product. I strongly suggest to all the women out there that are going through the same health issues, to try "Fibro Blend" first before resorting to having a hysterectomy. This is a way better and healthier alternative to getting rid of fibroids.**
-- A. Marina D., CA
Highest Potency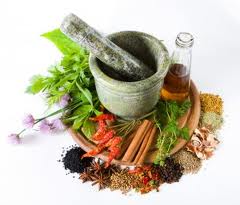 Most herbal products on the market today are made from ground herbs. FibroBlend, in contrast, is manufactured by a hot-water extraction. This procedure guarantees the high purity and potency of its active ingredients. The state-of-the art hot-water extraction process also guarantees NOharmful chemicals or pollutants.
FibroBlend's processed and packaged at a GMP facility right here in the USA. All raw herbs have been screened for quality, efficacy and safety by a specialist group at the China Academy of Traditional Chinese Medicine, the most prestigious research institution and the most exacting physician training facility in China.
How Long Do I Need to Take FibroBlend?
It is suggested that taking a course of three bottles of FibroBlend will provide the most benefit. It takes time for natural healing herbs to build up their effectiveness in your body. Allow one or two cycles. The best results are seen after one full course (three bottles) of FibroBlend. Please learn the right way to use FibroBlend.
Take two to three capsules three times daily 30 minutes before your meal. This herbal remedy works best when taken on an empty stomach to enhance absorption.
Stop using it before the onset of your menstrual period and resume taking it again after your period stops. Not recommended for use during menstrual cycle.
Make sure you are not pregnant when taking FibroBlend.
Click Here to Order FibroBlend Today!
Customer Reviews:
I have had two major surgeries for fibroids and was warned as a young woman that I could lose my ovaries "next time" and that birth control and surgery were the only answer and that having kids was a bleak possibility. I'm on my second bottle, and I'm thrilled to say I not only have no more fibroids but also do not suffer from any hormonal imbalances: my blood levels are stable and I haven't seen a single pimple along my jawline and chin (this area is directly associated with your reproductive system, ladies). I highly recommend this product to all ladies out there who were told there is no hope or were made to feel shameful about a condition that is perfectly overcome through holistic care such as this! **
-- L. Jobson
For years, I have had a cyst which gives me sharp pains during ovulation. The doctors said the cyst is normal and should go away naturally. I have had it for 3 years now. I decided to give this a shot based on reviews. I am a skeptical person and research everything. I am so glad I gave this a try. I am only 2 weeks in, but so far I have more energy, and I generally feel and look better. I am anxious for my next few cycles to see if the cyst pain subsides. The only drawback is taking 3 caps, 3 times a day. I don't stick to it.
UPDATED** After 2 months and 2 bottles, ALL of my ovary/cyst pain is gone! I was a bit worried about my first heavy cycle, but my theory is that all of the scar tissue and cyst were being forced out. During the second month using this product, I had a week of yellow discharge before my period. That was highly unusual for me. Then something wonderful happened. I never had cyst pain again!! I swear by this product. I have lived cyst pain free for 3 months now. I will continue to use it; only now I will dose down to maybe 1 or 2 a day. **
-- M. M
I had a cyst the size of an egg on my ovary & fibroids on my uterus . I was told I would probably need a hysterectomy from my gynecologist. He told me to come back in 30 days & he would do another sonogram to see if things had changed. I got on the internet & found fibroblend & read of similar situations that the product had helped so I decided to try it. I took it as recommended & went back to the Dr. & my sonogram was totally clear after 30 days. He was surprised & so was I ! **
-- Julie S. KS
Hi! I am a very thankful customer. I recently bought these for my wife because she has been suffering from cyst, and fibroid pain. I read the reviews from other customers and was very excited that I could do something to help her. Thanks to this miracle supplement, I'm now looking like a genius. Her fibroids are now almost gone and she is back to being her old self again. The reason why I am writing a review is to try to inform the next person, so that they also might be blessed.**
-- Charles
I am calling today to order more FibroBlend and to tell you how pleased I am with the product. I have been taking it for a little over three months now and have noticed definite changes for the better. Probably the first improvement I noticed after just a couple weeks was a reduction in the unpleasant feeling of fullness and stretching in my lower stomach area. I am happy to say that I can even fit back into some of my skinny jeans now; so, it's not just my imagination -- I actually am less bloated than I had been. I also am noticing an improvement in the excessive urinary frequency that had been troubling me before. It is such a relief to go out socially these days and not have to spend half of my night looking for the ladies room. My final comment is that my last couple periods have been lighter and less painful, which at this point in my life is very much appreciated. Thank you for making the herbs available!**
-Gloria J., NJ
FibroBlend was first introduced to me by a friend back in April. I am in my 40s now and had been struggling with female issues at that time. I am really excited about the overall improvements I e experienced since then. My whole situation is better now, but I especially appreciate the disappearance of those bad headaches that used to accompany each one of my periods. I also noticed a big improvement in my chronic constipation problem. I have already recommended FibroBlend to several friends and will continue to do so. **
-- Esther F., PA
Is a must try! Works great for PMS, perimenopause or menopause. Helps keep uterus strong and healthy. I highly recommended. **
-- M. Schram
All of my life I suffered from terrible menstrual pains, cramps, severe back pain, heavy bleeding, painful clotting and low blood pressure during my menstrual cycle. After going to the gynecologist and having an ultrasound done, I was shown a fibroid as big 2 cm in my womb. I was placed on birth control pills and many other pain killers that made my condition worsen. Out of desperation I decided to do something and purchased this product based on the reviews I read. I began taking these pills in January after my menstrual cycle had stopped. The following cycle came on time and no pain, vomiting, nor did I need pain killers. There was no discomfort. Whatever is in this product, it really helped. I am happy I decided to do some research, put fears aside and try it. I do recommend it. **
-- Trammi
I started to take the FibroBlend after a 6-cm cyst was found. The second day after taking it I had more energy and didn't need my usual nap. After a month of taking it I went back to the doctor. The cyst was only 2 cm wide. **
-- S. Hernandez
My sister-in-law, who had successfully taken FibroBlend in the past, recommended it to me after my gynecologist did a CAT scan on me recently and diagnosed multiple uterine fibroids. I decided to go out on a limb and order it for myself because I was in so much discomfort from lower back pain and stomach pressure caused by the fibroids pushing on nerves.
Within the first week of taking it, I noticed improvement, especially with my feeling of abdominal fullness and constipation symptom, once the stomach and back pressure from the fibroids had lessened. After a month I was well on the way to feeling better, and now I am almost back to my old self again, thanks to FibroBlend.**
-- -Ada F. PA
Click Here to Order FibroBlend Today - Risk Free!
Risk Free Guarantee is for First Order Only.
* The statements made on this website have not been evaluated by the FDA (U.S. Food & Drug Administration). Products are not intended to diagnose, cure or prevent any disease.
** Individual results may vary. We stand by a 30 day return policy for merchandise if you are not 100% satisfied.