Oil of Oregano Information / Oil of Oregano Testimonials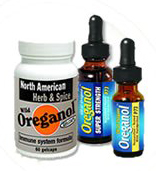 What is Oil of Oregano?
Oil of Oregano is a pure, edible essential oil that is cold-pressed, steam distilled and made from a blend of four high-mountain, wild oregano plants. The pure Oreganol oil is then emulsified in a carrier of extra virgin olive oil.

Guaranteed wild!




How is Oil of Oregano Made?
North American Herb & Spice was the first company on the American market to introduce edible Oil of Oregano. To be edible, this essential oil must be made only from wild, mountain-grown, Mediterranean oregano, free of all chemicals and pesticides. It also has to be emulsified in a carrier oil such as extra virgin olive oil, which is used by North American Herb & Spice in its oil of oregano. The oregano used is the real, 100% Mediterranean oregano, guaranteed to be handpicked in the pristine, untarnished wilderness. Oil of Oregano is produced by old-fashioned cold pressing and steam distillation. No chemicals were used to extract it.
Research Study on Oil of Oregano
North American Herb & Spice's oil is the only oregano product on the market extensively researched. Studies conducted by Georgetown University in Washington, D.C., have shown that the wild, mountain-grown oregano used by North American Herb & Spice is an excellent anti-fungal agent, completely killing Candida albicans in concentrations as minimal as 0.25 mg/ml. It also is much safer to use than popular anti-fungal drugs on the market. Further studies are pending.
Additional Informatoin on Oil of Oregano
For additional information on oregano and other herbs, research from around the world is available through your local library. Many studies demonstrating the strong antioxidant, broad antimicrobial and even painkilling properties of oregano have been published in scientific journals. Perhaps the most complete resource available on oregano that is easily understandable is the book The Cure is in the Cupboard: How to Use Oregano for Better Health, by Dr. Cass Ingram.

North American Herb & Spice have been followed by other companies trying to copy our success with oil of oregano. Many of them label their product Oregano or use the Latin name "regnum vulgare" to make it sound very scientific. This Latin name is used by botanists to describe over 60 different types of plants, often having no other similarities with true oregano except taste (like Thymus capitus from Spain or Mexican Sage). True oregano grows only under specific soil and climate conditions and can not be reproduced in your own backyard, even if the same seeds are planted. It is the perfect growing conditions found in the mountains of the Mediterranean that produce oregano with active, beneficial substances and without compounds that can be harmful to health when taken in concentrated dosages. Thymol is the harmful substance present in many inferior grades of oregano oil, and our oil has no thymol. Carvacrol content is a good indicator of high quality oregano oil, and our products have over 64%. But carvacrol is not the only indicator of high quality oregano, as the plant produces over 50 known-to-date substances which work synergistically to provide its benefits.
How to use Oil of Oregano:
Take a drop or two under the tongue or add a few drops in juice or water. Use on the skin or inhale the fumes. It is pungent and aromatic.Warm sensation when taken directly into the mouth is normal, as from garlic or cayenne pepper. Warmth dissipates rapidly.
Oil of Oregano Testimonials
It has been three years since we have had a bad cold or respiratory infection thanks to North American WILD "Oil of Oregano." We are a couple of seniors of advanced age and those two drops of oreganol every day really keep us going. You can be sure that when we travel we don't leave home without it. ** William P. - AZ

The Oil of Oregano (Oreganol) and capsules (Oregamax) have been a tremendous help for me. After a week, my sinus congestion and nasal drip have been relieved. I feel as though my breathing capacity has strengthened, as I highly recommend this. ** Bob M. - PA

I'm 60 years old and I am very pleased with the oregano products. I use the Oregamax and the Oil of Oregano (Oreganol) and it has cleared up my toenail fungus. My energy levels have also improved. Finally, I have found a product that does everything that it says it will do and more. Thank you!!!** Michael H. - OH

My husband and I are 62 years old and both suffer from arthritis pain in our hands. We have been using the Oil of Oregano (Oreganol) for 5 days the pain has virtually gone away. My husband has suffered also from chronic nasal congestion. The Oil of Oregano has cleared up the congestion! He takes a few drops of the oil in juice each day. I highly recommend the oil! ** Connie G. - NJ

I love Oregamax for digestion problems. As a side effect, all the minerals from the wild herbs stopped the bone loss and pain. It helped me heal a fractured hip and stopped the terrible pain. I also used the Oreganol P73 topically and under the tongue right after the fracture for several months. It stops pain fast and bleeding too. Cuts, wounds and burns of all kinds are healed so fast and painlessly. God blessed the plant and anyone who uses it is blessed. ** JK - Manitoba

I had a bladder infection which bothered me terribly. Recently I began using the Oregamax capsules twice a day and am very happy to report my bladder infection has completely cleared up! I also have used the Oil of Oregano (Oreganol) to treat a skin rash and it cleared up the rash overnight!!! This oregano is incredible!!! ** Rose H. - KS
Oil of Oregano Frequently Asked Questions
Does oregano kill Candida albicans (commonly referred to as a yeast infection)?
Yes. A team of researchers led by Dr. Harry Preuss and Dr. Cass Ingram at the Georgetown University Medical Center in Washington, D.C., completed a comprehensive study on the efficacy of Oil of Oregano against Candida albicans. They concluded that the daily oral administration of Oil of Oregano may be highly effective in the prevention and treatment of candidiasis. The results gleaned from the study were so impressive that an article was written on the findings and published in Volume 228 of the Journal of Molecular and Cellular Biochemistry. Please Click Here to view the complete findings of the study.*

On which areas of the human body should you exercise caution when using oregano topically?
Avoid putting Oil of Oregano in your eyes. Oil of Oregano should not be put into the ear canals. Avoid contact with genital area (contact on mucus membranes can cause burning/heat sensation).

How many people have taken Oregacyn and Oil of Oregano ?
Over 1 million people have consumed Oil of Oregano and Oregacyn in the course of the last five years.
Oil of Oregano Possible Side Effects
Side effects are minimal. However, allergic reactions to oregano oil and even a sensitivity to plants in the Labiatae family (thyme, basil, hyssop, marjoram, mint, sage) can occur. Stop taking oregano oil (and any form of oregano) if signs or symptoms of an allergic reaction develop.
Shop for Oil of Oregano
Oil of Oregano Reference
Oreganol - North American Herb & Spice. Top Rated Oregano Oil - Oreganol by North American Herb & Spice.

* The statements have not been evaluated by the FDA (U.S. Food & Drug Administration). Products are not intended to diagnose, cure or prevent any disease.

** Individual results may vary. We stand by a 30 day return policy for merchandise if you are not 100% satisfied.